Meet our newest addition, Toby. He is a 10 week old lab/GSD mix. We've had him for two weeks tonight. He's just come from his first vet visit, weighing in at 8.8 pounds and has been given a clean bill of health.
John & I had talked about getting Rebecca a puppy for Christmas but could not figure out how to logistically let her pick out the pup and then wait till Christmas morning to give it to her. The more we talked, the more excited we got. So we started looking and found Toby's litter. There were three females and two males. We really thought we'd come home with a female (and had only picked out girl names) but when we went to look, Toby sat really pretty next to Rebecca and gave her lots of kisses. On the way home she named him Toby. It seemed to fit.
Kinser went with us and did great inside the house with the pups. The shock came when he realized that one of the pups was in the vehicle with us on the way home. I swear if he could have spoken we would have heard, "oh crap!" Kinser had his 12.5 senior wellness visit tonight too and his blood work came back fine. He's down from 83 pounds in the spring to 77 pounds today. We've been doing nightly walks/runs (ok, more of a trot pace). Seems to be doing us both some good.
Toby has brought a lot of smiles and laughter back to our world. We've missed the energy of a young pup and he is fitting that bill just right. When we brought him home, Toby was so tiny that Bubby Girl, our 8-ish pound cat, looked huge next to him. He has now caught up to her. She is none too thrilled about his presence either, but after five days did finally come out of the bedroom.
Toby's comfort and confidence is growing daily and he now drops the front paws, butt goes up in the air and he barks at Kinser to play. Kinser probably only has another week or so before Toby begins to chase after him. He's done pretty good with Bubby cat - she just hisses and swats when he invades her comfort zone. Tonight Toby discovered the cat door and that inside the secret room there was a bowl full of cat food. It's going to be awhile before he is too big to fit through that door, so it should get interesting for a few weeks now
!
When he is awake, Toby is chewing constantly. That's new for us. He's also a little slower on the potty training than we remember with Kinser or Decker but it all goes with the territory. He pretty much squats when the mood strikes, like every 15 minutes or so. He is being crate trained during the day and at night, but evenings and weekends we like to try to give him some exercise. He's decided he is a fair weather outdoor pottier. He was like one of those kids toys that you roll back and release and the toy moves forward. We'd take him outside, set him down and he'd run straight to the door. He did not sniff, he did not stop, he did not potty. So we'd pick him up, carry him back out into the yard, set him down and he'd run straight to the door. We now have a harness and a leash for him so it's helped to keep him outdoors a bit longer to take care of business in the rain and cold. When the weather is dry and not too cold, he is just fine going outdoors.
The night we brought him home I had to run out to Wal-Mart to pick up a few things we'd forgotten earlier in the day. As I was wandering around my eyes filled with tears and I had a wave of unexpected emotion wash over me. It was not sadness over Toby, as I was very happy to have him join our family, rather it was the sadness over what his presence represented. It was only in Decker's loss that we gained Toby. Decker will always be in my heart and I still miss him greatly but do look forward to the new chapter in our lives!
All in all, we are having a blast. It's been great to hear laughter, yelling, and seeing lots of smiles again. Have missed that chaos! It's bee a lot of fun watching Toby's little personality develop and to watch and wonder what type of dog he will become.
Here is one of my favorite Toby pics: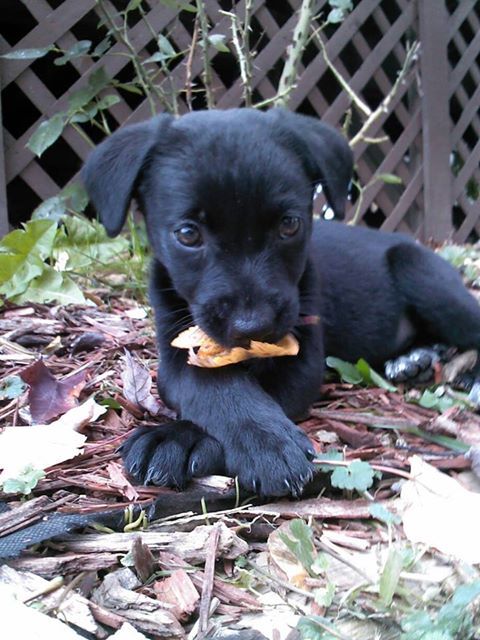 And here is a link to his photo page:
https://inmemoryofdecker.shutterfly.com/pictures/345